Finding the Moments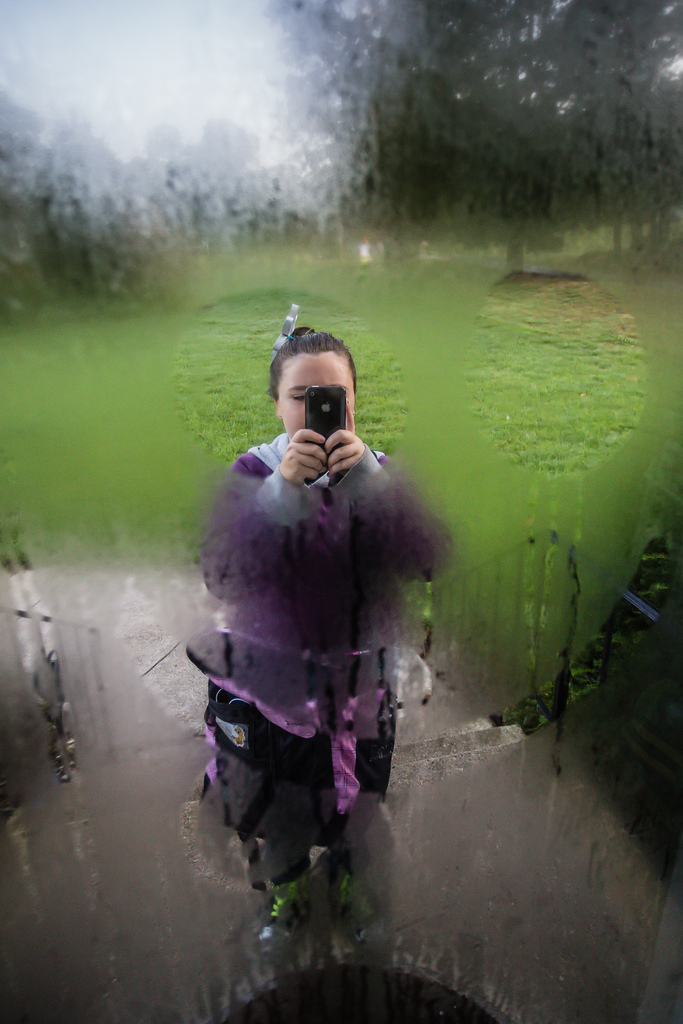 This is a photograph of my daughter Emily moments ago taking a picture of her morning artwork on our front door. Because she is taking it with her iPod Touch (my old iPhone 3) rather than her phone, I know she is going to post it to Instagram.
She saw a moment that she wanted to share and didn't think twice about stopping for a minute and capturing it. Sure, the school bus would be arriving soon, but she knew she had time and knows that moments don't last for long.
Last week, I heard Ann Handley talk about how Instagram is a great content teaching tool because the more you use it, the more you find and appreciate moments around you that you want to share.
I jotted it down in my notebook and have been thinking about it ever since. Then this morning all this happened and I knew I had to share it.
Content Marketing is the latest craze that everyone is talking about.
It isn't anything new, but the latest tools empower more people to create and share content. Any business can set up a social media foundation and begin creating and publishing as much relavent content as time allows. Budgets and bottlenecks no longer have to stop anyone.
Jane Quigley talks a lot about moment sharing and how it is a marketing trend to keep an eye on. She knows her stuff and is correct.
If you are stuck trying to figure out what kind of content to create and share, perhaps you should start with Instagram and a notebook.
Start with a personal account if you don't want it all tied back to your company yet.
As things catch your eye, take a photo and share it.
When an idea pops in your head, write it down.
At the end of the day look back at what you've photographed and written down.
At the end of the week, take an even longer look back and see if any trends catch your eye.
You'll start noticing that the akward feeling of stopping to take a photograph will go away. You'll look forward to capturing a moment and sharing it. Those blank pages will suddenly have scribbles, doodles and notes all over them that could be turned into something more.
People are the biggest problem with content marketing. They get in our own way and doubt themselves before even trying.
As you go about your day, never forget to find the moments and enjoy them. If there is a way to leverage them for your business goals then go for it. If not, just enjoy them.
This moment is brought to you by my morning coffee and a beautiful morning.